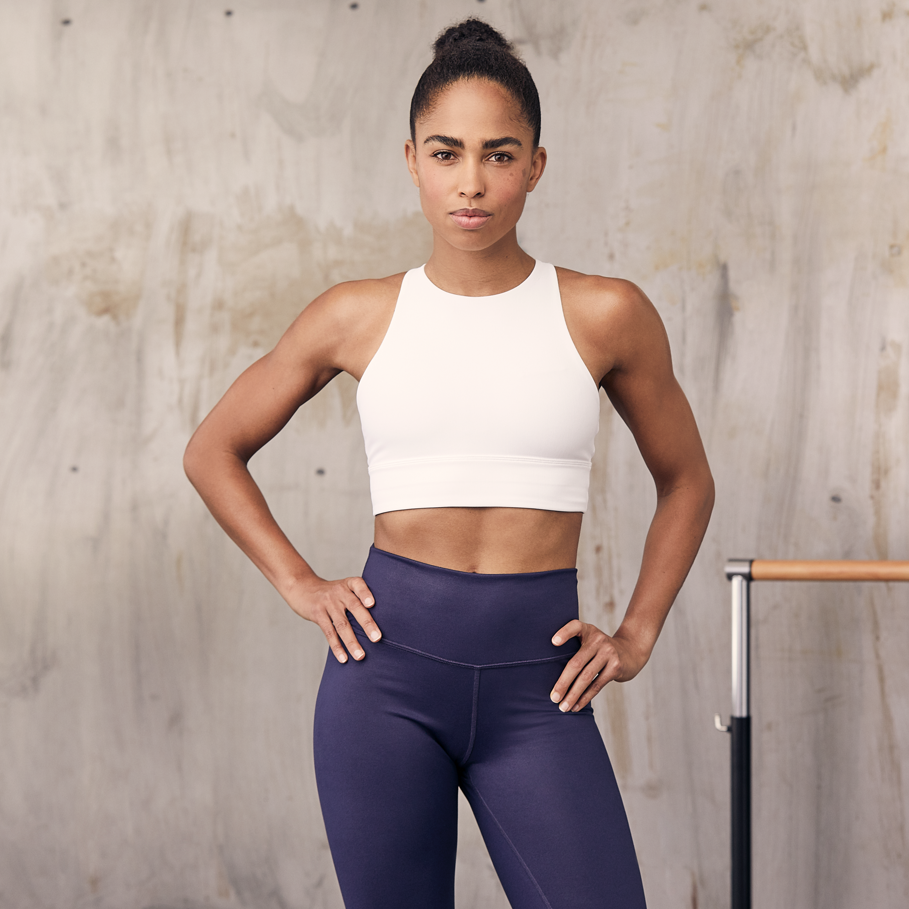 Britany Williams
II'm Britany, a NASM certified personal trainer, HIIT and barre instructor from Portland, Oregon. I became Sweat's first barre instructor in 2019, and have a range of fun and challenging barre, strength and pregnancy programs you can choose from. I believe that with the right attitude, anything is possible — all it takes is one good workout to give you the confidence that will carry you through your whole day!
My programs are for anyone! With modifiable, low-impact, high-intensity moves that define and strengthen your body, they will push you mentally and physically. Barre changed my life and my fitness journey, and I can't wait for you to give it a go. You're going to love it.
Train with Britany
Barre with Britany
Barre with Britany is six weeks of classes that blend traditional elements of ballet and Pilates with athletic, high-intensity movements to build strength, while increasing flexibility, coordination and control.

Each class can be done in a small space, with a chair for balance. The low-impact exercises are designed to increase mind-body connection, while building strength through isolation of key areas and isometric holds.

With beginner weeks to build confidence in the movements, there's also an optional high-intensity class for more of a challenge. The program includes four classes each week, each taking around 30-45 minutes, with two optional cardio sessions for overall fitness.

This program is ideal for anyone wanting to build balanced muscle strength and explore this athletic style of barre.
High-Intensity Barre with Britany
Achieve your strength and fitness goals and feel the burn with Britany Williams' High Intensity Barre program.

High Intensity Barre with Britany fuses strength training and high-intensity movements together with barre, for workouts you can do with minimal equipment in 35 minutes or less.

Starting with two foundation weeks, you'll build your skills and confidence as Britany guides you through each workout. She'll then keep your motivation high for an additional six weeks of intermediate-level full-body training.

Each week you can choose from four workouts that target different areas of the body and focus on building your core strength and stability. The combination of repetition and holds with traditional strength exercises will really push you.

There are also two optional express workouts that change each week to keep your training varied and interesting.

Are you ready to feel the barre burn?
Train with Britany
Ignite Strength with Britany
Ignite Strength with Britany is a strength training program perfect for training at home or in the gym, no matter what your experience level is. Using a set of dumbbells, a resistance band and a bench, step or chair, this program has 3-4 weekly workouts lasting no longer than 30 minutes.
Each week, you'll alternate between full, lower and upper-body workouts with an additional mobility and core session. Ignite Strength also includes optional weekly LISS and HIIT sessions to help improve your overall fitness.
The program is split into two six-week training blocks, designed to help you progress. The first six-week block follows a circuit, superset and finisher format, while the second six weeks includes more challenging compound movements, advanced exercises and superset pyramids to fatigue your muscles. Some of the workouts are time-based while others are rep-based.
This program is ideal for anyone at a beginner or intermediate level of fitness wanting to build strength with minimal equipment.
Pregnancy Barre with Britany
This barre program was designed during Brit's own pregnancy, with her vision of helping other women who are looking for a way to stay active and feel strong from bump through to birth. With three weeks of low-intensity workouts available for each trimester, you can complete and repeat Pregnancy Barre as your bump grows.
Each week there is a lower, upper and full-body barre workout which will each take you 20-30 minutes, plus optional weekly low-intensity cardio sessions.
This program is perfect for home or the gym once you have received clearance from your healthcare professional, and all you need is a resistance band, chair and set of dumbbells.
Train with Britany