Top 4 Favorite BBG Exercises
So I've stuck with BBG for over 2 years and have lost track of how many times I've completed BBG 1.0, BBG 2.0, and even a few months of the SWEAT app now... but out of my whole experience, I have some favorite exercises that I can seriously feel the next day. I also think they're the exercises that help build the muscles I want the most!
PS - I love using SWEAT's new ankle weights during some of these exercises to add more of a challenge!
X Mountain Climbers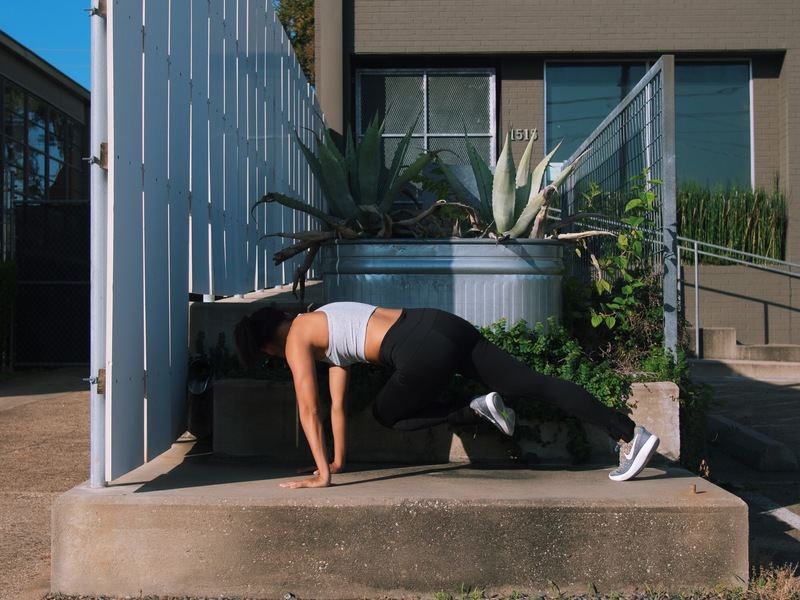 Mountain climbers have always been boring for me, but X mountain climbers really work my abs like never before! Plus, I get some good shoulder burn going trying to keep them in line with my nands. Your starting position is a standard plank (hands slightly wider than shoulder-width apart), and then you bend your RIGHT knee to your LEFT elbow, return to starting position, and then bend your LEFT knee to your RIGHT elbow. Keep the speed up and alternate the positions for a total of 20 per side. Your abs will definitely feel it the next day!
Decline Push-Ups
Decline push-ups make me feel like a badass. I normally do it on a flat bench in the gym, so it's even higher, and I feel SO accomplished after! The trick to building up to this push-up is to go down as far as possible without comprimising your form. Don't worry if you're not very low yet when just starting! Form is the most important. Keep your back straight and don't lock your elbows when you push up. Do 20 of these!
Burpees
I have a love-hate relationship with burpees. I love how it gets the heart rate up so quickly, and how you're working so many muslces in the body. You're planking, you're snapping your legs in towards your body, you're propelling yourself upwards in an explosive motion, and then you drop down into a plank and do it all again. 15 good ones will get your legs burning and your heart pumping!
Jump Squats
I also love jump squats because of the cardio aspect. It really gets my heart rate up, but I also get to work on my leg muscles. Get into a good parallel squat to feel the full effect on your glutes. Another aspect I love is the explosive movement. I like to jump as high as I can and then land soflty. By being aware of your muscles and movement, you can really get an effective workout from several sets of these! For one set, do 20 reps.
These are my top 4 favorite exercises, but I truthfully probably have a top 10 (including ones using weights and medicine balls). I'm so amazed at how far I've come by sticking to BBG for 2+ years. Finding this program was a start to a healthy lifestyle that I had never achieved before - seriously life changing. Try starting off with these 4 exercises, and look into the program if you're wanting more!
Disclaimer: This blog post is not intended to replace the advice of a medical professional. The above information should not be used to diagnose, treat, or prevent any disease or medical condition. Please consult your doctor before making any changes to your diet, sleep methods, daily activity, or fitness routine. Sweat assumes no responsibility for any personal injury or damage sustained by any recommendations, opinions, or advice given in this article.